Wide range and highest quality
The wide variety of materials used in additive manufacturing is impressive: Be it laser melting, laser sintering or stereolithography – there are specific materials with a variety of physical properties for every 3D printing process. While processes like laser melting, laser sintering and Multi Jet Fusion use powder-based metals and plastics, in stereolithography and Poly Jet/Multi Jet modelling, 3D components are created from liquid plastics that are hardened using a UV light.
Always test the latest materials
The PROTIQ Marketplace offers a wide range of materials including metals, plastics and ceramics for almost any application. We are continually expanding our product range with the latest material developments in order to offer you the best possible solution for your requirements. If you are unable to find the material you are looking for in our portfolio, please don't hesitate to contact us.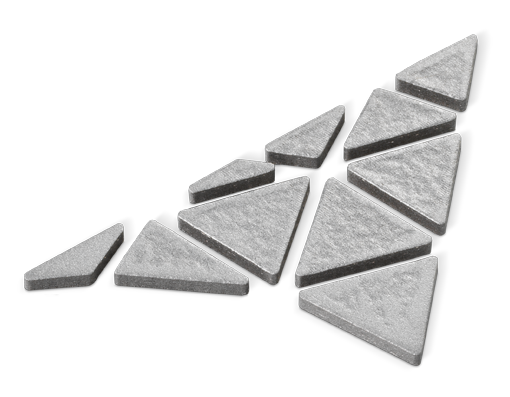 Metals for 3D printing
3D printing is used to create optimized components from metal powder for the automotive and aerospace industry. Additive manufacturing is also becoming more and more established in toolmaking: Tool inserts with integrated, near-contour cooling are produced by using robust, wear-resistant materials like tool steel or stainless steel.

All metals for 3D printing
Plastics for 3D Printing
On the PROTIQ Marketplace, you can find a suitable plastic for almost any requirement. Depending on the manufacturing process, liquid, powder-based or strands of raw materials are melted or bonded together and built up layer by layer into impressive 3D objects. This is how master patterns, functional prototypes or even mechanically resilient components for a wide variety of industries are created.

Plastics for selective laser sintering
Plastics for stereolithography
Plastics for PolyJet/MultiJet modelling
Ceramics for 3D Printing
3D ceramic objects have exceptional properties, such as high thermal resistance, low weight and extraordinary resistance to wear. These features make the material appealing to high-tech industries such as aerospace, medical technology and mechanical engineering. A fine ceramic powder is used in a multi-step process to create micro components on a millimeter scale that often operate behind the scenes.

All ceramics for 3D printing
3D data check
The data check on the PROTIQ Marketplace is always done automatically. This procedure guarantees a consistently high quality. After uploading your file to our server, the PROTIQ software checks the file for manufacturability. Small errors are repaired automatically. In the case of large errors, you will be informed before printing and asked for approval by means of a preview.
TIP: Upload your file and have it automatically repaired by the software. You will then be able to download the repaired file under the item "File Info." In addition, the file is saved in your account.
Are your 3D files ready?
Just upload your data. All files are automatically checked and optimized for printing.