Stereolithographie/ PolyJet Modeling
Training needs
Stereolithography (SLA) was developed in the early 1980s and is considered the first 3D printing process. The method allows the production of delicate 3D printing objects from liquid plastic, for example epoxy resin. Thanks to its precision, additive technology is still a particularly popular process for producing detailed prototypes. Alongside stereolithography, PolyJet modeling (PJM) also uses UV-sensitive plastics to build high-resolution prototypes for vacuum casting. Printheads with a variety of nozzles make it possible to combine different materials and colors in a single construction process, which is why PolyJet modeling is also used to make innovative prototypes with completely new material properties.
Training content

Process overview
SLA/PJM plastics
Machine
Applications (vacuum casting/ printed injection molding inserts)
Learning goals
Our one-hour training session on stereolithography and PolyJet modeling introduces you to the materials used in the construction process along with their specific properties, gives you an overview of the characteristics of the processes and the required machines and shows you advantageous applications suited to the manufacturing processes.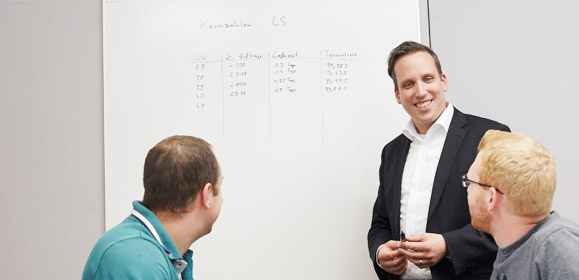 Arrange training date
If you are interested in our offer and in using 3D printing to optimize your production process, then feel free to contact us and make an appointment. We look forward to hearing from you.
Are your 3D files ready?
Just upload your data. All files are automatically checked and optimized for printing.