Training needs
Additive processes are playing an increasingly important role in industry today as an innovative addition to conventional manufacturing methods. In addition to already established methods such as laser melting and laser sintering, new materials and manufacturing processes are constantly being developed in order to improve existing processes and further expand the range of 3D printing applications.
Training contents

Fused Deposition Modeling (FDM)/ Fused Layer Modeling (FLM)
3D printing with plaster powder (3DP)
Laminated object modeling (LOM)
Multi-stage processes, e.g.: lithography-based ceramic manufacturing (LCM), BASF metal filaments
New developments / current trends
Learning goals
In the "Alternative Processes" module, we introduce you to the lesser widespread 3D printing technologies that produce impressive 3D objects from materials such as paper, plastic film, and ceramics. We also inform you about exciting new developments and current additive manufacturing trends.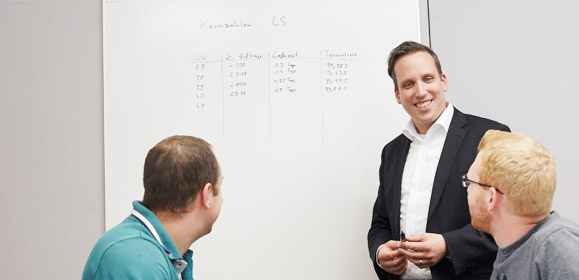 Arrange training date
If you are interested in our offer and in using 3D printing to optimize your production process, then feel free to contact us and make an appointment. We look forward to hearing from you.
Are your 3D files ready?
Just upload your data. All files are automatically checked and optimized for printing.