Training needs
While conventional manufacturing design is always limited by manufacturing constraints, 3D printing is undergoing a paradigm shift towards design-oriented production. In order to make the best use of additive manufacturing's versatile design options, certain guidelines should already be taken into account in the design phase of 3D printing models. This allows you – before printing – to avoid inaccuracies caused, for example, by the step effect or delay, and thus ensure a flawless construction process.
Course content

Design guidelines
Paradigm shift to additive manufacturing
Function integration
Data preparation
CAD programs
Learning goals
In this module, we show you how to go beyond the limits of production-oriented design and make your product developments more design-oriented. However, industrial 3D printing also has design guidelines that should be taken into account as early as the development phase of your components to allow you to implement even difficult areas perfectly. These rules and AM-compliant preparation of your 3D data are also included in this training element.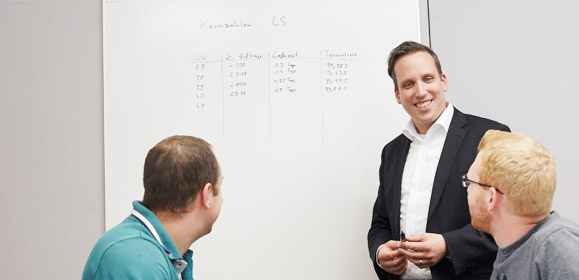 Simply arrange a training date
If you are interested in our offer and in using 3D printing to optimize your production process, then feel free to contact us and make an appointment. We look forward to hearing from you.
Are your 3D files ready?
Just upload your data. All files are automatically checked and optimized for printing.