Component selection/component design/AM-compatible design
Training needs
Thanks to its many possible applications, 3D printing is increasingly being used in industrial environments. Among other things, the selection of suitable components is important in order to profitably integrate additive manufacturing into your own process chain. The CAD-based design of 3D models that must meet the process-related requirements of additive manufacturing plays an essential role in the production of high-quality 3D objects. Many companies however often do not know enough about additive manufacturing in order to determine which applications are suitable for them.
Training content

Analysis of the product portfolio's potential
Evaluation of the 3D printing optimization potential
Feasibility study
Learning goals
In our practical all-day workshops, we show you how to identify workpieces that benefit from being manufactured in a 3D printing process. We use components from your own production for the analysis, allowing you to make targeted use of our findings. We also show you how to adapt your 3D models for 3D printing to ensure the best possible results.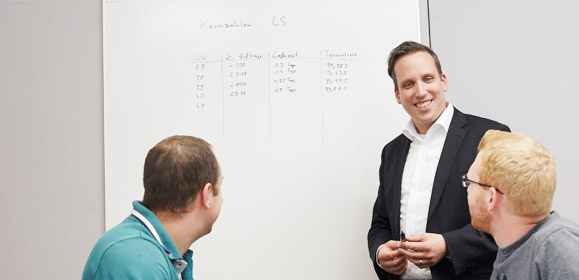 Simply arrange a training date
If you are interested in our offer and in using 3D printing to optimize your production process, then feel free to contact us and make an appointment. We look forward to hearing from you.
Are your 3D files ready?
Just upload your data. All files are automatically checked and optimized for printing.