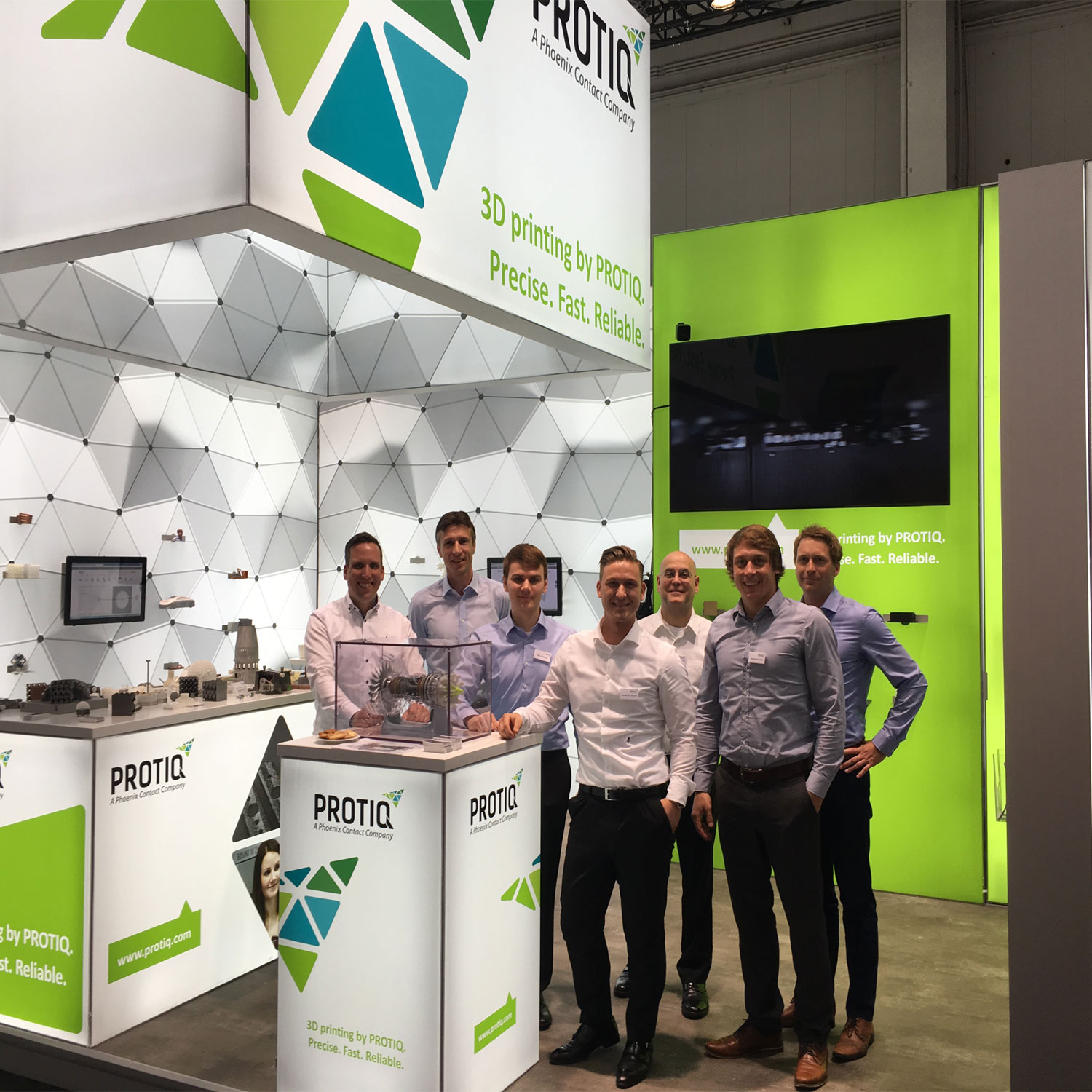 Hannover Messe - our highlights 2018
Only a few days left: This year's Hannover Messe will take place from April 23 to 27 and PROTIQ will also be exhibiting again. We look forward to a week full of exciting impressions, inspiring conversations and, of course, remarkable industry innovations.
Visit us at the Hannover Fair at our Booth L18 in Hall 6 and experience the latest product developments from PROTIQ up close. Among other things, you can expect the following highlights:
New material at PROTIQ: brass
Until now, brass was considered unsuitable for additive manufacturing. The different material properties of the alloy components copper and zinc make the processing by laser radiation considerably more difficult. After intensive research, however, PROTIQ has succeeded in developing a process for 3D printing with brass. At the Hannover Messe, you will have the first opportunity to convince yourself of the quality of our exhibits made of the shiny gold material.
New 3D printing service: Gear Configurator
In addition to copper inductors, you will also be able to individually configure plastic and metal gears at the PROTIQ Marketplace in the future. The gear configurator offers six basic shapes to choose from, for example, to create a complete gear ratio.
We will gladly introduce you to the functionality of the gear configurator and our product examples in a personal conversation. You can make an appointment for the Hannover Messe via our contact form.
We look forward to you!
More News
15.11.2019

PROTIQ Marketplace Is Now Active in the Field of Medical Technology

Read message ›

31.07.2019

Unique: PROTIQ enables additive production using the Zamak 5 series material

Read message ›

19.06.2019

Configure custom ICS covers online on the PROTIQ Marketplace

Read message ›
Are your 3D files ready?
Just upload your data. All files are automatically checked and optimized for printing.